Dream of the Great Ship
- The Book -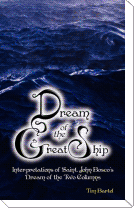 In 1862 Saint John Bosco warned about "persecutions that are in store for the Church." This had been revealed to him in a dream, which he told to four hundred boys. In the dream there was a great ship steered by the pope heading for pillars of the Eucharist and Mary amid storms and hostile enemy ships. John told of these ships ramming the great ship of the Church and of a pope who falls during the battle. The dream caused "no end of wonderment" for the boys and for generations of Catholics. Now for the first time, the meaning of these images is uncovered as author Tim Bartel details the historical events that are unfolding in our lifetime.
This incredible book includes a translation of the dream never before published!
Here are just some of the perplexing images from the dream that you will find explained in this book:
The exploding book weapons
The escort ships
The meeting of captains
The raging storms
The pope who falls twice
The coinciding death and election of popes
The healing wind
The two pillars
The calm waters
You will also learn how the general public knew details of the Third Secret of Fatima during all the years it was safeguarded by popes. Whether you are familiar with John Bosco's dream of the two columns or you are discovering it for the first time this book will engage you as you encounter the fantastic world of a modern clairvoyant saint and uncover what his dream means to us today.